Garage Door Cable Tracks
Back To Our Services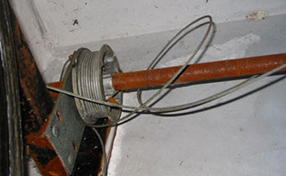 Our garage door cables & tracks company is probably the best choice as a garage door company in the entire city. There is no other garage door service in the area that provides all the services with the same quality that our garage door contractor does. Our garage door service offers same day service with a smile. In other words, if you call us you can expect the prompt response that day whenever it is humanly possible. Beyond that we also provide emergency repair service twenty four hours a day and seven days a week. These are the little things we do win our customers over. It is no wonder they think we are the best choice as a garage door company in town.
Emergency garage door company that shows its ability to deliver.
One of the many garage door repairs we often have to make is with garage door cables & tracks. There are so many things that can go wrong and leave you in a bad situation. The garage door cablesare designed to lift your garage door. The garage door track is designed to house your garage door. Your garage door slide smoothly across the track as it opens and closes. When these cables snap or tracks become bent then many different problems arise very quickly.
It is not our intent to alarm you but broken cables can be a safety concern. That is why it is very important to have them checked regularly and to have a professional like one of our technicians at thebest garage door company to perform the necessary repairs. Here are some of the garage door repairs we offer on garage door cables & tracks:
* Cable snapped
* Cable loose
* Cable came off drum
* Broken cable
* Replace garage track
Of course our technicians can handle any repairs associated with garage door cables & tracks not just the ones mentioned above. It is best to always expect the unexpected when it comes to cables & tracks. These items are under a lot of stress and the wear and tear can be brutal.